Ingenuity of l'Artisan du Corset


Trained at l'École du Corset, Blandine, throughout her training,
never stopped being led by innovation and creative spirit associated to the corset maker's craft,
never forgetting high quality.
Always searching for creativity and to step aside historic corsetry, l'Artisan du Corset
imagined to revisit the great classics of the clothing and to give them a new corseted elegance.
These innovative models are made possible thanks to complex assembly techniques.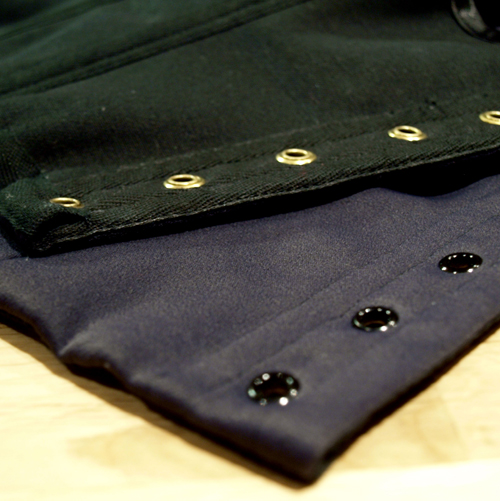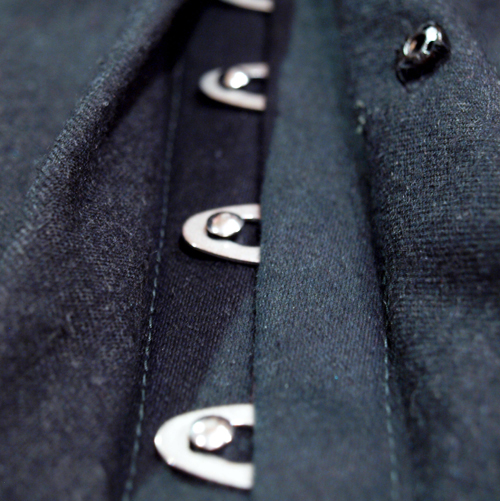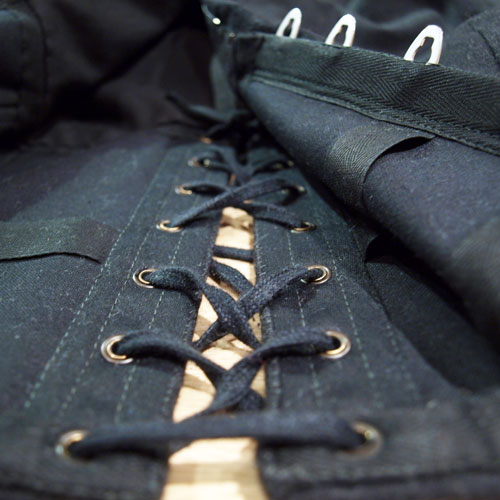 The requirement of a rare craft
Corset maker is a registered profession at l'Institut National des Métiers d'Art in France.
We are about thirty corset-makers in France today.
This craft requires a long apprenticeship and specific techniques of patterning, assembly and fitting in the nearest millimeter.
Patience, logic and accuracy are the key words of the profession.
A corset needs an average of 30 hours to be tailor-made.
L'Artisan du Corset attempts to guarantee an exceptional quality for each handmade piece,
to the slightest details.
It is in this purpose that her suppliers are now the best of the Parisian market: Mokuba, Shindo, Socolatex...


History of the corset


Born at the Renaissance as a derivative of the armor, the corset gradually enters the daily clothing of the women
and models their bodies according to the beauty standards of this time.
Formerly meant to be worn underneath clothings, the corset became a top garment:
it does not hide anymore and claims to be a real fashion accessory.
L'Artisan du Corset is inspired by these multiple evolutions to create
contemporary pieces, comfortable and thought for women of today.


I want to thank every artists who worked for those collaborations.
I thank them for their investment and their good work that highlight mine.
For more precision about the collaboration, please read this article of my blog



Photographers

Julien Baek
Yasmine Bennis
François Berthier
Bsphotographie
DClick
Gaëlle Dechery
Kasia Kozinski
No Hell View
Quentin Roux
Sébastien Tabarin
Jean-Paul Tary
Wide Open Photographies

Models

Malika Bianco
Cléo Devret
Stéphanie Dussine
Celina Emrich
Violaine Jagu
Juliette
Jennifer Lhermet
Audrey Lena
Caidy Lena
Margot Mansuy
Elvan Matejicek
Lucile Montier
Elodie Pillet
Kathy Santos
Gabriela Spader
Sarah Tchi
Alessandra Velia

Make Up Artists

Sheryl Chua
Ju Make Up Artist
Anna Fiore
Houria Lachiri
Cécile Le Gall
Léa Liénard
Justine Poupaud
Salome Roubine
Yangsun Seo
Aurélie Vandecasteele

Hairstylists

Julie Bouteiller
Kim Bouvier
Laurianne Amador
Junko Komada
Naidy Luit
Diane Martin
Cyril Nanino
Remy Villerelle

Accessory

LILA
Titania Créations

Stylists

Cédric Godefroy
Wafa Kmala
Déborah Labartino

Links




L'Artisan du Corset

Only by appointment




37, avenue du général Galliéni
93380 Pierrefitte-sur-Seine
06 88 40 44 67




Hosting

OVH SAS




2, rue Kellerman
59100 Roubaix
0 820 698 765

Legal notices
© L'Artisan du Corset - Paris - 2016